About Us
Vinscents specialise in luxury home fragrance candles, reed diffusers, wax melts and much more.  Our highly scented and long lasting products are hand poured with love using only natural soy wax and eco friendly bases with only the best quality fragrance oils. 
We are constantly introducing new fragrances to an already large selection.  Like fine wine, each candle has a distinct colour, bouquet and ambiance. Vinscents products instantly enhance your space while creating a sense of luxury. They are vegan friendly, and free of toxins, parabens and
known carcinogens.
All our products are hand made to order in small batches, ensuring the highest quality and personal touch every time. We pride ourselves on our extensive range and customers are blown away by the unique packaging making this the ultimate finishing touch to your purchase.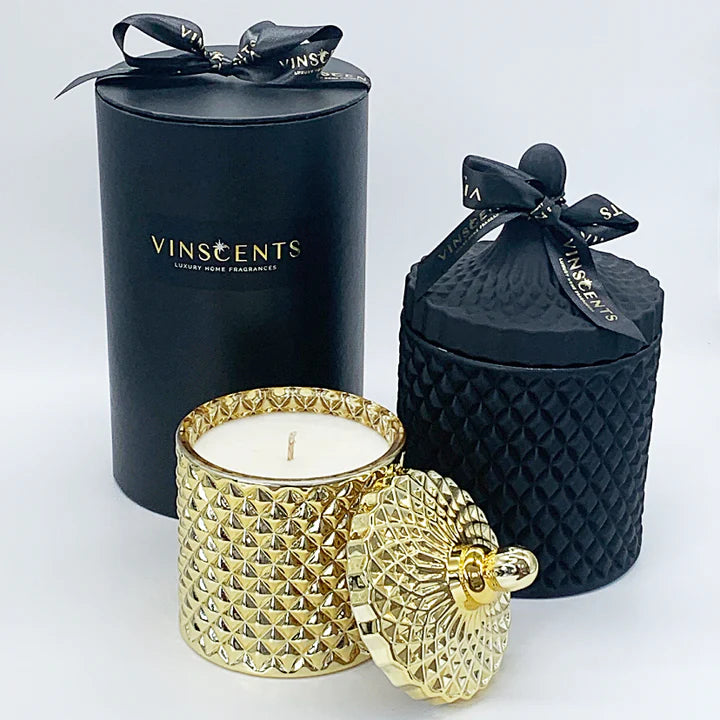 BEST SELLERS
Our best selling Geo candles are a popular choice and featured in many homes. A luxury candle offering style and sophistication without the expensive price tag.

Adored by many, these make a stunning gift or the perfect treat for yourself. Finished off with our luxurious packaging, rich in texture and design, to ensure you receive the ultimate candle experience every time.
Buy Now
Reviews
Ever since I first bought Shelley's candles I was obsessed!
the candles always look just as stunning as they smell. The wax melts and diffusers are just as amazing and the scents are so strong and last for ages! Her service is amazing and everything is always beautifully presented. Bought so many for special gifts too would definitely recommend! Xx

Shelley's candles are absolutely amazing. They fill my house with such a wonderful smell. My favourite product is the wax melts. There is so much variety and I can change the smell around my house based on my mood. Fantastic products, would highly recommend!

Vinscents candles and wax melts are the best I have ever bought.... and I have had plenty. So many compliments from friends when they come into my house. My first reed diffuser lasted for 9 months so I bought more for friends and family. So many fragrances to choose from so I can never be bored.